Biography
William Daley was born in Hastings-on-Hudson New York on March 7th, 1925. His father, a house painter and avid lover of poetry and the arts, fostered William's creative appetite. After surviving prison camp during World War II, Daley went on to attend The Massachusetts College of Art in Boston where, under the G.I. Bill, he received his Bachelors Degree in 1950. After graduation, William married his college classmate, Catherine Stennes. They relocated to New York where Daley completed his Graduate Degree from Columbia University Teachers College in 1952.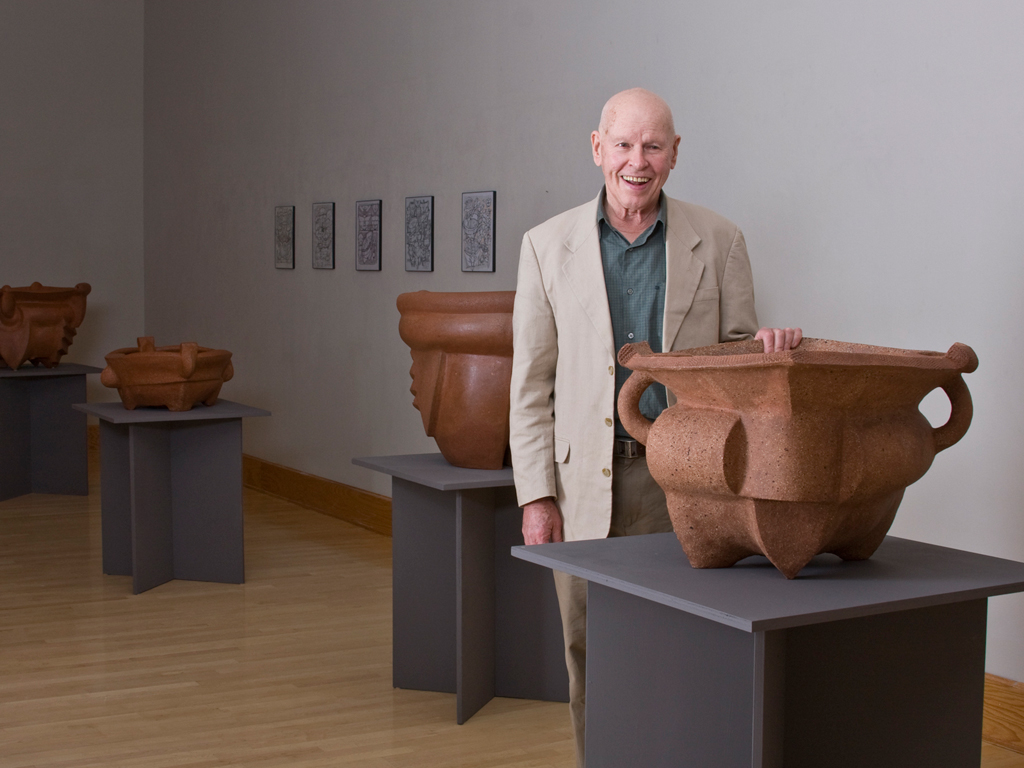 Bill pictured with a few of his pots at Vesica Explorations, a solo show held at List Gallery. Photo shot by Amanda N. Williams
Daley went on to teach ceramics at state colleges in Iowa and later New York but spent the vast majority of his educational career - nearly forty years - in the Industrial Design Department, and later in the Crafts Department at Philadelphia College of Art (now The University of the Arts) in Philadelphia.
William has been given numerous awards and accolades for his career as an educator and ceramic artist: Honorary doctorates from both The Maine College of Art and University of the Arts, Awards from the College Art Association, American Craft Council, The Pew Center for Arts & Heritage, Northern Clay Center & Watershed.
Daley has been the subject of many publications (American Craft Magazine & Nelsons Ceramics to name a few - and exhibitions - Poetics of Clay an International Perspective, Clay Today, International Architectural Ceramic Exhibition, Architecture and Ceramics: Material, Structure, Vision). You can find Daley's large, unglazed stoneware vessels at The Clayarch Gimhae Museum, Gimhae, South Korea; Metropolitan Museum of Art, New York, NY, Museum of Art and Design, New York, NY, Museum of Fine Arts, Houston, TX, National Museum of Art, Smithsonian Institution, Washington, D.C., Philadelphia Museum of Art, Philadelphia, PA, The Stedelijk Museum's Hertogenbosch, The Netherlands, Victoria and Albert Museum, London, England.
Statement
Clay, like all primal materials, has personae. It holds secrets, embeds traditions, and feeds the boundaries that nurture change. Consequently, materials hold the inherent structure of "the possible becoming."
Studio time is a kind of morphology: A quickener of tacit cues, which slows down my head to allow "seeping time," as I work with tools in hand. I call it practice: The wonderings of If. "If" as add-venturing, "If" as play, serendipity, or chance. "if" as the alternatives of un-thought: Intuitions and feelings that morph my parts and pieces into holds. "Holds" nudge more pro-found possibles for what I thought I was trying to do with "now and then" or "how and why."
When the power of "If" informs "the possible becoming," and these inter-restings insist, I have found something useful to pursue and given material evidence to share with others. I enjoy the rush of moving toward a more telling vessel: One in which the duality of material and spirit whisper the symmetry of wonder we share together. My thanks to all who help draw the circumference around the center points and assure the future of "the possibility becoming."